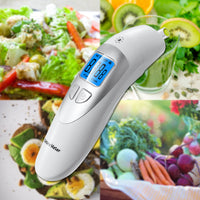 How Long Does It Take to Get Into Ketosis?
You cannot simply jump into ketosis in a 24-hour timespan. Your body has been burning sugar for fuel your entire life. It will need time to adapt to burning ketones for fuel.
This transition could take anywhere from 48 hours to one week. The length in time will vary depending upon your activity level, lifestyle, body type and carbohydrate intake. There are several ways you can speed up this process, like intermittent fasting, drastically decreasing your carb intake and supplementation.
Remember: Once you get into ketosis, there is no guarantee you will remain in ketosis. If you eat a carb-laden meal, practice carb cycling, or increase your carb intake for athletic performance, your body may start burning glucose. To get back into a fat-burning state, follow the same methods you did to get into ketosis initially.
know more
keto diet life
Ketone Breath Analyzer
We just want to offer you an easy and simple way to track your ketosis accurately.